How to look less tired with makeup
How to Look More Awake With Makeup
Ugh, Mondays, am I right? Pulling yourself out of bed is hard and looking not exhausted is even harder. Rather than wishing the day away and pressing snooze yet again, there are few things you can do—with makeup you probably already own—to look like you woke up refreshed and properly pampered. Even though, let's face it, you probably didn't. No judgment here, only easy-to-follow advice that'll make tired eyes and makeup mishaps a thing of the past.
Below, we compiled the best tips from makeup pros Charlie Riddle and Robert Sesnek to turn your makeup bag into an arsenal of resources to treat, cover, and de-puff. Armed with the proper tricks and products, you'll leave the house looking bright-eyed, even before your first cup of coffee.
Meet the Expert
Charlie Riddle is a pro makeup artist and serves as the Global Beauty Director at Stila.
Robert Sesnek is a celebrity makeup artist and ambassador for Catrice Cosmetics.
Keep scrolling for some simple and easy makeup tips to wake up tired eyes.
Mix Eye Cream With Tinted Moisturizer
Clinique All About Eyes $35.00
Shop
Dab your favorite eye cream (we suggest a cooling, de-puffing option like Clinique's All About Eyes) around your orbital bone. While it still feels dewy to the touch, brush on a sheer wash of tinted moisturizer around your eye, over your lid, and along your lash line. This way, you'll be treating your fatigue while also covering any darkness or imperfections. 
Use Sheer Shadow Instead of Liner
Catrice Cosmetics Palette À Porter Eyeshadow Palette $7.00
Shop
Rather than lining your lower lash line, which can make your eyes look smaller, sweep a sheer layer of light brown shadow along your lashes instead. "Using a lighter wash [of powder] reflects light and gives the appearance of more space," says Sesnek, who says this is an easy way to make eyes appear larger and takes literally seconds to do.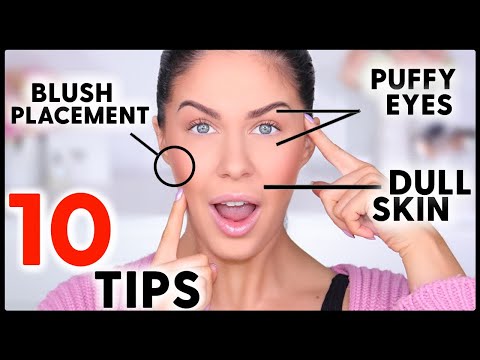 Not to mention, using eyeshadow as liner allows for more long-lasting results, as powder lasts longer then cream products.
Groom Brows For a Lifted Appearance
One/Size Brow Kiki Micro Defining Brow Pencil $19.00
Shop
Sesnek says that it's important to have your eyebrows properly in shape for your specific eye shape. Go for a long arch if you have close-set eyes and opt for softer brows if you've got wide-set eyes.
Color Correct Dark Circles
Stila Correct & Perfect All-In-One Color Correcting Palette $45.00
Shop
Use a peach-toned concealer (rather than your usual lighter shade) to balance out the blues in your under-eye bags. Riddle recommends applying the the corrective tones beginning at the most inner part of the eye (which is usually where you want to counteract the darkness the most). Tap on the product to make a V shape—with the point landing right above your cheekbones.

Then, blend. Riddle recommends this color correcting palette from Stila because it offers several color correcting cream shades as well as powders to set.
Use a Concealer
Hide Premium Concealer $32.00
Shop
Have tired eyes? Find a full-coverage concealer that won't tell the world you were up all night binging Netflix. After color correcting, Riddle says to look for a concealer that has a little bit of color correction built into it, especially if you have really dark circles.
Avoid Black Eyeliner
Pixi Endless Silky Pen in Bronze Beam $12.00
Shop
Rather than your go-to black, opt for a brown eyeliner with a hint of shimmer. The color will reflect light against your eyes and make them look so much more awake. Plus, Sesnek says that bronze or warmer brown eyeliner can be much easier to wear on eyes as it's not as drastic as ultra black eyeliner, which can close off the eyes instead of opening them.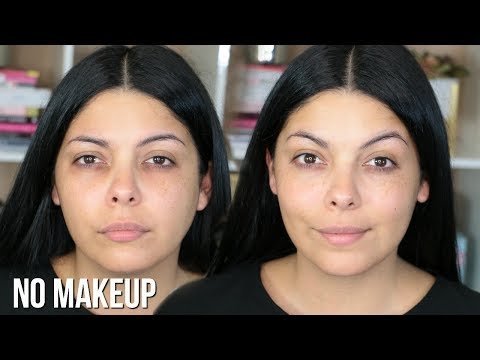 Try smudging this bronze eyeliner from Pixi along your lash line for an instant wake-up call.
With smaller shaped eyes, Sesnek says to avoid lining the entire eye and waterline, as this can make the eyes appear much smaller then they are. Instead, opt for eyeliner on the outer corners of the eyes—this will give the illusion of more space and a larger eye shape.
Curl Your Lashes
Face Stockholm Lash Curler $16.00
Shop
Curling your lashes is like a bra for your eyes. "When you curl the lashes it elongates, lifts, and makes the eyes appear more open," says Riddle. "If you don't wear a lot of makeup and want an instant eye-opening effect, curling your lashes is the best way to do it." Bottom line: don't skip this step.
Widen Eyes With a Lengthening Mascara
MAC Magic Extension 5mm Fibre Mascara $25.00
Shop
Sesnek says that applying several coats of mascara on the upper and lower lashes will help make the eyes appear larger.
We're fans of this one from MAC, which is essentially lash extensions in a tube thanks to five millimeter-long fibers that swiftly coat each lash.
Eliminate Shadows With a Brightening Powder
Jaclyn Cosmetics Face It All Brightening & Setting Palette $39.00
Shop
According to Riddle, setting your concealer with a brightening powder will not only help prevent creasing, but it'll also bounce off any shadows and make the eyes appear brighter. Try the Jaclyn Cosmetics Face It All Brightening & Setting Palette, which promises to blur, perfect, and brighten even the dullest of skin.
Awaken Eyes With Nude Eyeliner
Thrive Causemetics Brilliant Eye Brightener $24.00
Shop
Take a pale pink or nude pencil, like this one from Thrive Causemetics and line your bottom waterline—it'll instantly refresh and make the whites of your eyes look whiter, brighter, and your entire face more awake.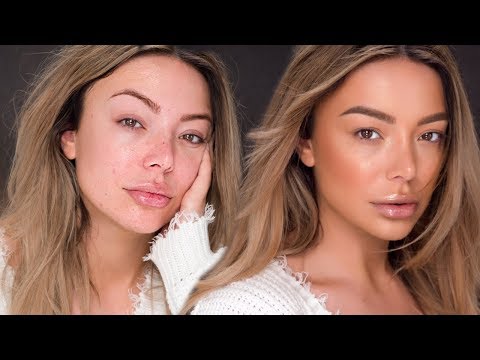 Brighten Skin with Luminizer
Becca First Light Filter Face Primer $39.00
Shop
Use a ratio of one part luminizer and two parts face makeup to immediately brighten lackluster skin. It'll refresh your complexion in mere seconds. Becca's First Light Filter Face Primer ($39) uses translucent, cool violet pigment mixed with spring water and prickly pear flower to hydrate, revive, and scatter soft light across your face. It's basically magic for your tired, possibly hungover face.
15 Simple Eye Shadow Looks
Look Less Tired: 8 Makeup Tips to Look Awake
Freelance makeup artist and 'Reader's Digest' photo editor Emma Kapotes demonstrates how to fake well-rested skin for those days when your face gives away how few Z's you got last night.
Ali Blumenthal/Rd.com
Step 1: Start with a clean slate
This is especially important if you went to bed without washing your face last night and remnants of yesterday's makeup are sticking around.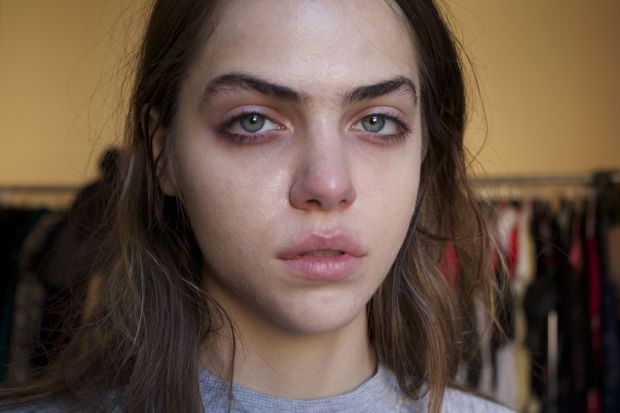 A gentle cleanser is ideal, says Rich Campbell, who's worked as a makeup artist for 25 years for brands like Origins, Dior, and Chanel, and is the director of education at Dermaflash. Follow up with your regular daily moisturizer. Here we used Aveeno's Ultra-Calming Daily Moisturizer. Hydrated skin perks you up because it naturally makes skin look more glow-y and vibrant. These are the morning habits of people with great skin.
Ali Blumenthal/Rd.com
Step 2: Smooth on tinted moisturizer
"I like a natural look for summer," says Campbell, who recommends grabbing a tinted moisturizer with a built-in SPF 30. (Note: if your regular moisturizer already has an SPF 30, it's not necessary for the tinted moisturizer to have it as well. The key is that one of these provides sun protection.) "These blend in nicely and even your skin tone, leaving skin looking sun kissed," he says. "In summer, a little illumination is a nice touch," he says.
We combined two different tinted products to give our model Taylor the perfect match for her skin tone: Benefit Cosmetics The Big Easy Liquid to Powder SPF Foundation in Light and bareMinerals Complexion Rescue Tinted Hydrating Gel Cream in Vanilla.
Ali Blumenthal/Rd.com
Step 3: Target undereye circles
One of the key areas to focus on when you're tired is your undereye bags. To prep the skin, use an eye cream to battle puffiness. Here we used Benefit Cosmetics Puff Off! eye gel to smooth out the skin texture. Next you will want to hide the appearance of dark circles. Take a concealer two shades lighter than your skin tone and apply this in a triangular shape under your eyes. Maybelline Instant Age Rewind Eraser Dark Circle is a great drugstore brand product that worked wonders here. Here are more tips to get rid of puffy eyes and dark circles.
Ali Blumenthal/Rd.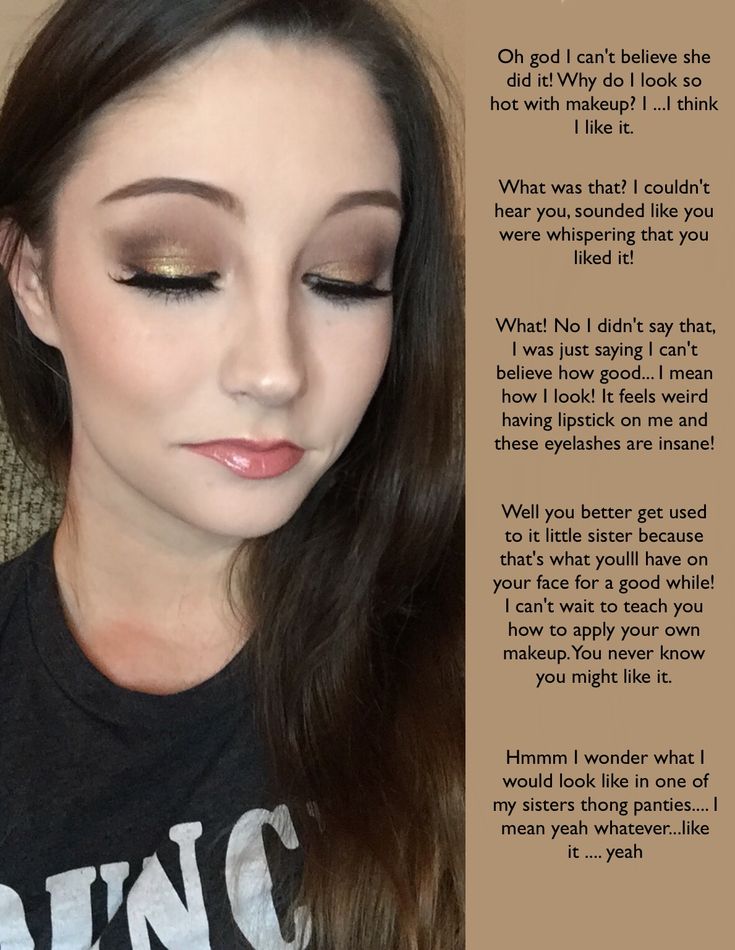 com
Step 4: Set your concealer
To prevent creasing and to keep your concealer in place all day, set this area with a loose setting powder. To set, apply a generous amount of powder with a brush or damp beauty blender and let it "bake" in for a few minutes. Here we used Laura Mercier's Translucent Loose Setting Powder to smooth out and brighten the undereye area. Once the powder has started to sink into the skin, take a brush and dust the remaining powder off.
Ali Blumenthal/Rd.com
Step 5: Add color to eyes
Campbell is a fan of shimmery eye shadows to brighten up eyes—and he promises you won't look like a disco ball. Swipe a goldy-pink or champagne color on lids, he says. Focusing this brightening shade on the inner corner makes the eye appear wider and more awake. We achieved this look by using the Tarte Tartlette in Bloom Clay palette. Finish the eyes by lining the water line with a nude liner, curling your lashes, and applying a volumizing mascara.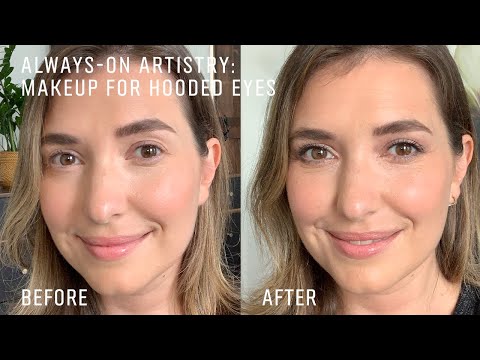 Lastly, fill in your brows with whatever product works best for you. Here we used Benefit Cosmetics 3D Browtones Instant Color Highlights in Light/Medium.
Ali Blumenthal/Rd.com
Step 6: Dip into bronzer
Dust on a bronzer that has—you guessed it—a subtle shimmer to it. Apply to areas that the sun naturally touches your face: apples of cheeks, tip of nose, and along your hairline. Use a light hand. "Bronzer should kiss your face—not look like a mask, which will backfire and make you appear dull and tired," says Campbell. We created a sun-kissed look here by using Laura Mercier's Matte Radiance Baked Powder Compact in Bronze 04.
Ali Blumenthal/Rd.com
Step 7: Add color to cheeks
Making your skin glow with a shimmery blush and highlight is key to faking well-rested, fresh skin. Dust a shimmery blush, like the Milani "baked" blush we used here in Luminoso, onto the apples of cheeks to add some color back into your face.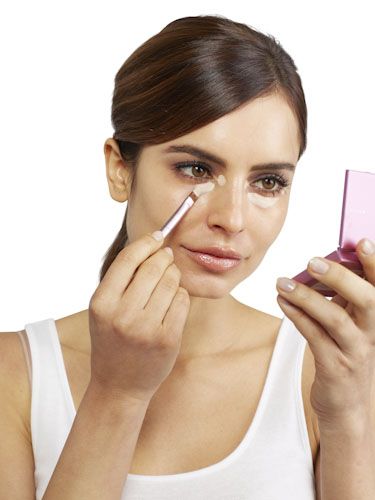 Add highlighting powder to the tops of cheekbones, down the nose, across the cupid's bow, and on the chin to enhance your skin's appearance. Here we used Anastasia Beverly Hills' Glow Kit in Gleam.
Ali Blumenthal/Rd.com
Step 8: Bring focus to lips
Lastly, coat lips in a natural looking lip gloss/stain to add a nice, but subtle, pop of color without looking overdone. NARS Lip Gloss in Chelsea Girls is the perfect Pink Beige shade. The finished look gives the illusion of a well-awake, fresh face! Now, trick your brain into feeling more awake with these energizing tips for when you're always tired.
For more makeup reviews and inspiration, follow our artist Emma Kapotes on Instagram @emma_kapotes_beauty.

Originally Published: July 14, 2016
Originally Published in Reader's Digest
How to make a refreshing make-up: 3 most important rules
8 hours of healthy sleep, a cheerful blush and burning eyes - all this can be "get" from your cosmetic bag
Contents:
The main thing in a refreshing make-up
Refreshing make-up for brown eyes
Refreshing makeup for gray or green eyes
How to make a refreshing make-up: instruction and video
How to refresh your eyes with makeup: 4 life hacks
To always look fresh, you need to live without worries or at least minimize stress factors.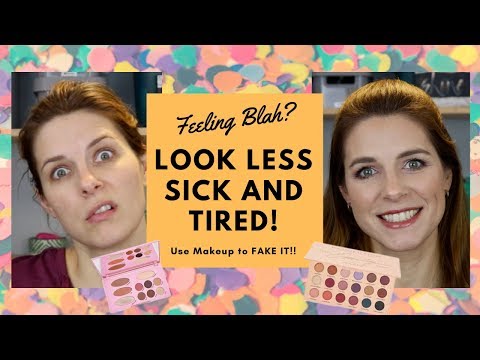 But the modern rhythm of life practically excludes the ideal picture of the world. There is sorely not enough time for proper sleep, proper nutrition and sports. Cosmetologists are sure that this is one of the main reasons for early aging, and they strongly advise residents of megacities to pay more attention to competent skin care. Make-up products that are capable of a visual result, which can be compared with the effect of a walk in the fresh air or even a vacation, will also help to look good. In this material - more about the secrets of makeup, giving the face a rested look.
The key to refreshing makeup
Fatigue is usually indicated by bruising under the eyes, uneven skin tone, dull, sallow complexion, dry skin without a hint of a healthy glow. With these problems, a refreshing make-up should cope.
© Makeup.ru
You can know how to refresh your face with makeup, but you won't get the desired result if you don't pay attention to skin care. To restore elasticity and natural radiance, it is important to regularly moisturize the skin and not neglect exfoliation.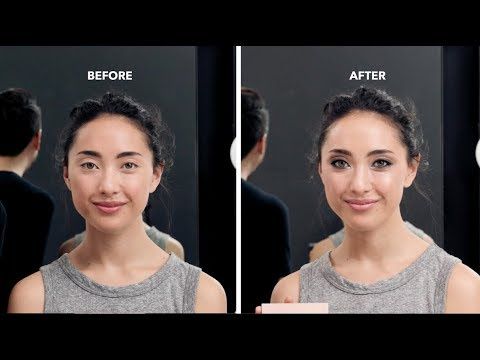 The systemic use of day and night creams will make the skin forget about the period of lethargy and "lifelessness".
In the make-up, focus on the effect of radiance. Add a drop of liquid highlighter to the foundation. Create highlights - in the inner corners of the eyes, on the cheekbones, above Cupid's arch, using either the same highlighter or a transparent lip balm.
© Makeup.ru
Give preference to products with a creamy texture: firstly, they will provide additional moisture, and secondly, they will give the skin a dewy sheen of healthy skin.
Choose bright colors. If you are ready to complement the make-up with a catchy accent (red lipstick on the lips or, say, colored arrows - blue, lilac, turquoise green), this will instantly refresh the image. If this technique seems too radical to you, red blush, carefully shaded over the "apples" of the cheeks, is enough. In this case, the face will look like after a fitness session on the street.
Refreshing make-up for brown eyes
If you have brown eyes, turn your eyes from tired to cheerful with golden shimmer eyeshadows. They will serve as the basis of the make-up.
© Makeup.ru
Spread shimmering powder all over the eyelids. Slightly darker, for example, a bronze shade, blend in the crease to create a depth effect. Next, highlight the inner contour with a nude kayal - this technique visually neutralizes the redness of the whites of the eyes.
© Makeup.ru
Lightly define the lash line with a brown shimmer pencil. Finally, apply mascara, painting over the eyelashes from the very roots - this will slightly lift them and make the look more open.
© Makeup.ru
Refreshing makeup for gray or green eyes
Color accents play a decisive role here.
Draw graphic arrows with liquid liner. This one detail can radically change the whole image. The effect will be more noticeable if you refuse black mascara. Thickly painted eyelashes usually make the make-up heavier.
Colored mascara (such as Yves Saint Laurent Beauté's Mascara Volume Effet Faux Cils), on the contrary, gives a refreshing effect. Apply it only to the very tips of your lashes. Let this be the only color accent in the make-up.
© Makeup.ru
Match your color type (considering your eye color) with a bright matte lipstick. The shade should be more light than dark. Then you will achieve the desired effect.
How to make a refreshing make-up: instruction and video
1
Apply primer to the face. It is better if it is a special tool for skin radiance. In this capacity, a foundation mixed with a drop of highlighter can also act.
2
Even out the tone. If your skin condition permits, opt for a product with a light texture and caring properties - Hydra Zen BB Crème by Lancôme will do.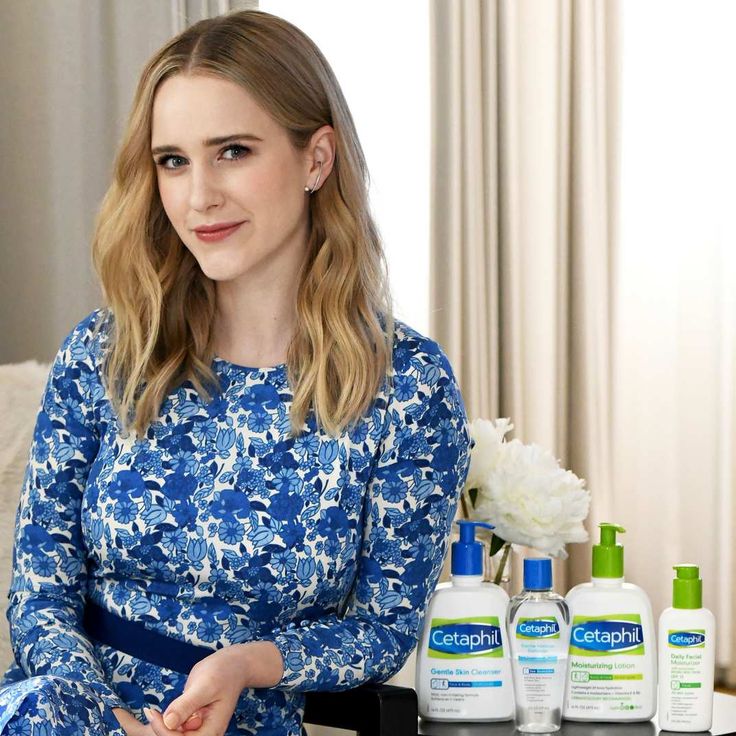 © Makeup.ru
3
Perform a light eyebrow correction. A natural result will allow you to get mascara.
© Makeup.ru
4
Blush your cheeks with a light shimmer. Or use a blush of a rich shade, which at the same time can serve as a lipstick. Complement your make-up with highlights on your cheekbones - make them with a highlighter or a drop of a transparent balm.
© Makeup.ru
5
Line the inner contour of the eyelids with white or nude kajal. Spread champagne shades with small shimmery particles over the entire surface of the moving eyelids. Blend some highlighter into the inner corners. Finish off your eye makeup with mascara.
© Makeup.ru
6
For lips, choose either a transparent balm or a bright lipstick. The creamy texture will give a refreshing effect.
© Makeup.ru
How to make a refreshing makeup in five minutes, see our video.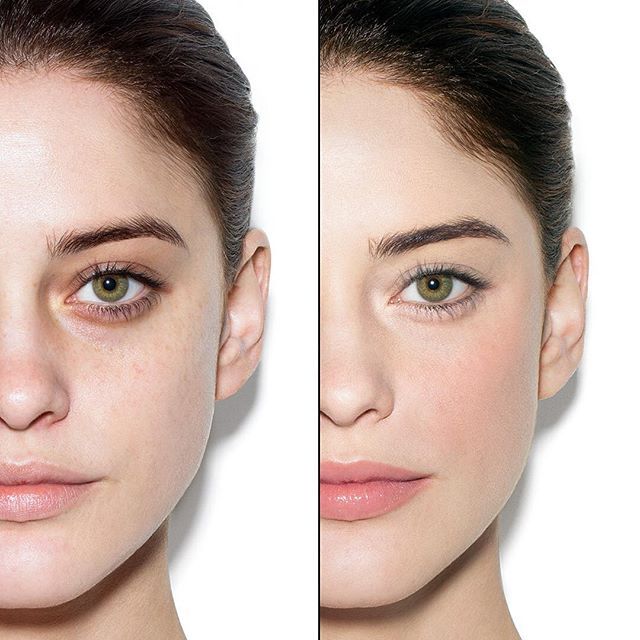 How to freshen up your eyes with makeup: 4 life hacks
Whether others perceive you tired or cheerful, depends mainly on the eyes. That is why they require special attention when creating makeup that refreshes the face.
1
Be sure to choose shadows with a shimmer. Only eyeliner can be matte - and then only if you have chosen a "color" solution in makeup.
© Makeup.ru
2
Arrange highlights correctly. Three areas should shine: the inner corners of the eyes, the central part of the moving eyelids and small areas under the "tails" of the eyebrows.
© Makeup.ru
3
Lift the lashes at the roots using a curler. A graceful curve will appear, and the look will become more open - you will definitely not look sleepy.
© Makeup.ru
4
Skip ultra-black thick mascara. "For every day" is more suitable brown with a volume effect. The result will be softer and lighter.
Do you often have to do a refreshing make-up? Share your tricks in the comments.
How to freshen up your eyes with makeup: 12 beauty hacks
If you don't have the energy to wake up when you don't get enough sleep, let cosmetics take the worry out of your tired look and dark circles under your eyes. We tell you what beauty tricks will provide a look of freshness
How cheerful others perceive you depends primarily on your gaze. In order for everyone to think in the morning that a healthy 8-hour sleep is the norm for you, you will have to supplement your usual makeup with some details. In this article, we will talk about beauty tricks that will help give the face a fresh look.
© imaxtree
Red eyes, loose skin around, dark circles and bags - all this indicates a lack of sleep. You should work on this if you want to look more cheerful. A few quick tricks that are not difficult to master at home will help you make a difference.
1
Firstly, if there is a problem of puffiness, skin care products (patches, gels, creams) will help to cope with it.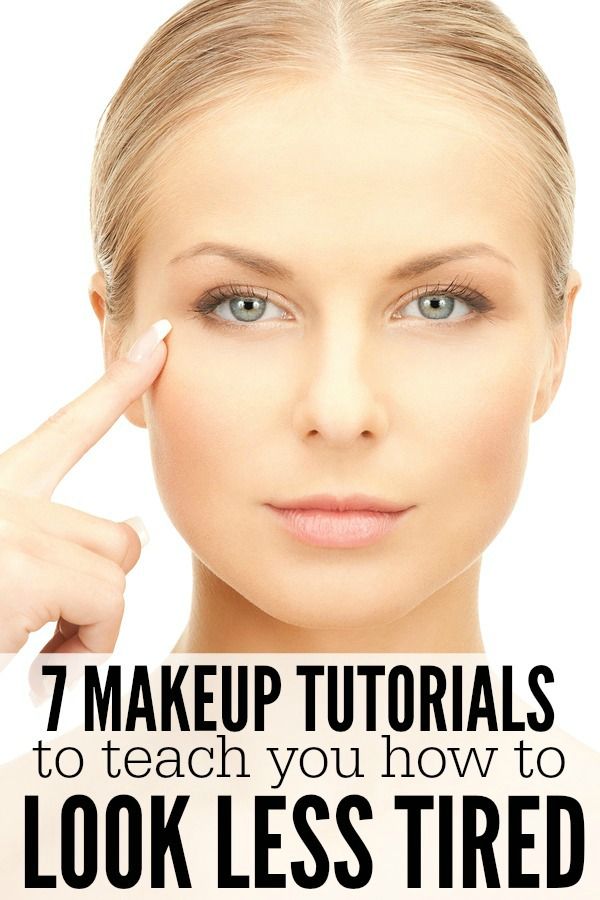 It is important to keep eye cream cold. Then, when applied, it will refresh the skin. The same technique will help to cope with morning swelling.
© garnier.com.ru
Énergie De Vie Eye Cream, Lancôme © lancome.ru
Prodigy Powercell Eye Patch, Helena Rubinstein © helenarubinstein.com
To reduce the appearance of bags under the eyes, apply concealer to those areas of the skin where the shadow falls from them.
2
Secondly, before applying foundation, use a corrector or concealer with reflective particles (it will create the effect of a healthy glow). Apply it over a very thin layer of eye cream, but only after it has been absorbed; A layer of primer, which is usually used to "fill" the pores, may not be superfluous - all so that the foundation does not roll up and does not gather in folds.
© armanibeauty.com.ru
Touche Éclat Highlighter Brush, YSL © yslbeauty.com.ru
Facestudio Master Camo Concealer, Maybelline New York © maybelline.
com.ru
Conceal triangles under the eyes with this corrector "blue" will be much more effective.
© Makeup.ru
© Makeup.ru
© Makeup.ru
How to mask bruises under the eyes, see the video tutorial by Alina Fly Cloud.
3
Thirdly, pay attention to the skin around the inner corners of the eyes. There are usually small dark areas there too - it is also better to paint over them with a corrector. Makeup artists recommend applying either shining shadows on the inner corner itself - silver, pearl or, say, champagne colors, or a highlighter to visually make the look more open.
© Makeup.ru
4
Fourth, you should get a light kajal pencil - white or nude. Bring them to the inner contour of the eyes on the lower eyelid to get rid of the redness of the eyes, and make the look more cheerful and fresh.